Last updated November 15, 2017 at 3:46 pm
Researchers are constantly looking into ways we can mitigate or adapt to the effects of climate change. One approach that has shown some promise is the concept of solar geoengineering – effectively blocking some of the sun to reduce the amount of heat entering the lower atmosphere. However a study has warned that the most effective method for doing this might have some unforeseen consequences, like increasing the number of cyclones or droughts.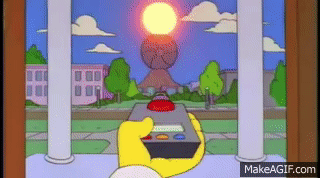 Rather than a Mr Burns-esque giant shield, solar geoengineering usually involves releasing reflective particles into the upper atmosphere. These particles reflect solar radiation back into space before it reaches the Earth's surface, resulting in less heat. The inspiration for this approach comes from volcanoes, which when they erupt spew solar reflective particulate into the atmosphere and cause regional cooling by the same mechanism.

However, volcanic eruptions also change the formation of cyclones in the northern hemisphere, with large eruptions reducing the number of cylones in the northern Atlantic Ocean. To see if particles released into the atmosphere by humans caused the same effect, a group from the University of Exeter and the UK Met Office ran atmosphere-ocean simulations to investigate the link.

The simulations by the group found that injections of aerosols in the northern hemisphere would decrease North Atlantic tropical cyclone frequency, which sounds like a good thing. However, these northern releases of particles would also cause droughts in the Sahel region of Africa south of the Sahara desert.

The Sahel region, which stretches coast to coast across Africa, is already severely affected by climate change, with droughts becoming more common and more intense. A 2012 drought reduced crop yields by 50% and sent food prices skyrocketing, leading to 2.8 million people in Burkina Faso and 800,000 in Senegal suffering from famine. Over 3.6 million were also affected in Chad. Solar geoengineering which increased drought in this region would have disastrous consequences.

When the group examined particle releases in the southern hemisphere, they found that they could increase the number of north Atlantic tropical cyclones. This could potentially lead to more events like those in September this year, which saw Hurricanes Maria cause devastation to Puerto Rico, Harvey hit Texas, and Irma cause widespread destruction and 134 deaths in the Caribbean and Florida.

The research shows the extreme care that needs to be taken when considering solar geoengineering as a response to climate change. While it may cause some desirable effects in the region it is used, it can result in negative effects thousands of kilometres away. With governments looking at taking action to try to meet commitments made under the COP21 agreement, these concerns need to be carefully examined before any large-scale geoengineering projects take place to ensure improvement in one place doesn't lead to disaster in another.
Follow us on Facebook, Twitter and Instagram to get all the latest science.
---