Last updated September 8, 2017 at 11:33 am
Declining sperm count and sperm concentration has been observed in Western countries over the last 40 years. This research counts as a bit of a wake up call, say Australian experts.
A study has revealed that sperm concentration and total sperm count of men in Western countries, such as Australia, New Zealand, Europe and North America, is declining.
Interestingly, no significant decline was seen in South America, Asia and Africa. Although it's true we have less data from these areas, it does suggest that lifestyle or environmental factors are at play. The researchers found a 52.4% decline in sperm concentration and a 59.3% decline in total sperm count. The worrying part was that this decline in Western countries is not slowing down.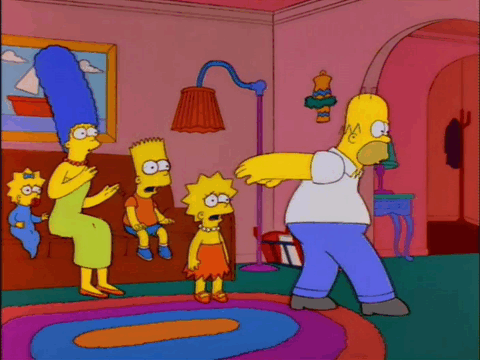 Just as Homer Simpson graphically displays the conception of his youngest daughter Maggie, the concentration and total sperm count is vital to fertility. We know that obesity has negative effects on sperm count. We also know that frequent exercise can improve the quality of sperm.
The study looked at data from 185 studies from between 1973 and 2011. The research was published in Human Reproduction Update.
Experts suggest that future research should focus on identifying lifestyle factors behind falling sperm counts.
Dr Orly Lacham-Kaplan is Senior Scientist in the Centre for Exercise & Nutrition at Australian Catholic University
"The data presented is indeed a true representation of the situation with sperm count and concentration. There is a decline in sperm count and concentration up to 60 per cent over four decades. Although it will be interesting to identify the causes associated with this directly (which will be based on large scale epidemiological studies), as a reproductive biologist it will be more interesting to see data associated with semen quality. Although there are many studies that show correlation between sperm count concentration and quality, the information would have been helpful.
Also, a follow up study including the same individuals over a span of several years would be interesting. There is information to associate all cause morbidity with sperm count and concentration and this is something to think about; i.e. is sperm count and concentration is indicative of poor health?
As for Australia, I would not worry our 'guys' too much, just to maybe be a bit conscious. I will refer to the study as informative rather than scientific and maybe, just maybe the simple(r) life in non-western countries is actually the best, even for sperm.  Maybe a study can be done in Australia regarding city men versus rural men?"
Dr Shaun Roman, Assistant Dean International & Marketing and Program Convenor for the Bachelor of Biotechnology in the Faculty of Science and Information Technology and Head of Biology in the School of Environmental and Life Sciences at the University of Newcastle.
"On face value this study suggests a decline in sperm numbers continues. These numbers follow the numbers of the other studies cited.
The dates used in the study were the date of sampling and are not related to the age of the donor. So there is not an age effect but an environmental effect that is limited to 'western countries'. This requires some vigorous investigation.
However it should be noted that it only takes one sperm to fertilise an egg and, on average, western men are still producing 50 million per ejaculate. We are not in crisis yet but this study serves as a warning that we should investigate the role our diet and environment pay on sperm production."
Professor Kelton Tremellen is Professor of Reproductive Medicine at Flinders University
"This paper confirms previously observations of a significant fall in sperm counts over the last four decades. However, what is interesting about this latest analysis is that it the decline in sperm counts appears to primarily effect men from western countries like Australia and United States, not those from Africa or Asia. This suggests an environmental or lifestyle issue specific to western society is the underlying cause.
The most likely cause of this halving of sperm count is obesity. Poor diet and lack of exercise, both endemic in the western world, has resulted in two-thirds of men being overweight or obese, and obesity is known to be a significant risk factor for both low testosterone levels and sperm count.
Men should take these results as a wake-up call to adopt a healthy lifestyle. By maintaining a healthy weight, plus eating plenty of good foods like fish, nuts, fresh fruit and vegetables, while avoiding high fat and sugar foods, will help maintain both a healthy sperm count and good overall health."
Conflict of interest statement: Professor Tremellen is inventor of the male fertility nutraceutical Menevit designed to optimise sperm heath and marketed in Australia by Bayer Consumer Care.
Professor Rob McLachlan is Director of Clinical Research at the Hudson Institute of Medical Research and Director of Andrology Australia
"The paper by Levine et al is at first glance alarming in reporting a 50 per cent decline in sperm output across the world over the past forty years.  While not providing new primary data, it provides a meta-analysis of the hundreds of papers that have examined the semen quality over many years.
Examining for trends in semen quality is extremely challenging as one needs to find a way of assessing whole populations (not just selected men) using consistent analytical procedures over decades. If it were an easy issue to pin down, it would have been done years ago. This issue has been controversial, as issues of patient selection and inconsistent methodologies have resulted in varying conclusions.  For example, a paper describing 4867 young Danish men showed a modest increase in sperm counts between 1996 and 2010.  Other studies have shown no change, while others have also suggested decline.
The current paper represents a concerted effort to collate and evaluate 185 studies involving 43,000 men over 38 years in the hope that the statistical power derived from so many studies will compensate for potential flaws in the component studies.  The authors excluded many studies because they had overtly biased patient samples. Those that were evaluated were classed as involving either 'unscreened men' who were considered to have no reason to be concerned about their fertility and therefore might be potentially representative of general population. Others were classed as 'fertile' due to their proven fertility.  A decline was reported in both groups. There were differences in geographical regions; only the western centres showing a decline.
It is unlikely that anything more can be done in the foreseeable future to definitively answer this major public health question. But taking a cautionary path, this latest analysis presents the challenge to identify and address potential negative impactors on male fertility such as lifestyle, obesity and comorbidities that are rising in developed countries particularly, and generally the role of environmental toxicants for which there is certainly evidence in more select populations.
Ultimately the concern is that a fall in sperm output will be reflected in delays in natural conception rates. To date this has not been established. There is much more awareness and discussion of fertility, and major changes in the management of male infertility over the past 25 years in particular. Between 4-7 per cent of western populations are now conceived using assisted reproductive technology (ART).  Male factor infertility accounts solely or in part for half of ART treatment. An apparent increase in male infertility may reflect the success of sperm microinjection technology with more male factor couples coming to recognition.
This meta-analysis will no doubt increase the debate about health and environmental impacts on male reproductive health."
Expert comments gathered by the Australian Science Media Centre (AusSMC).
Follow us on Facebook, Twitter and Instagram to get all the latest science.
---